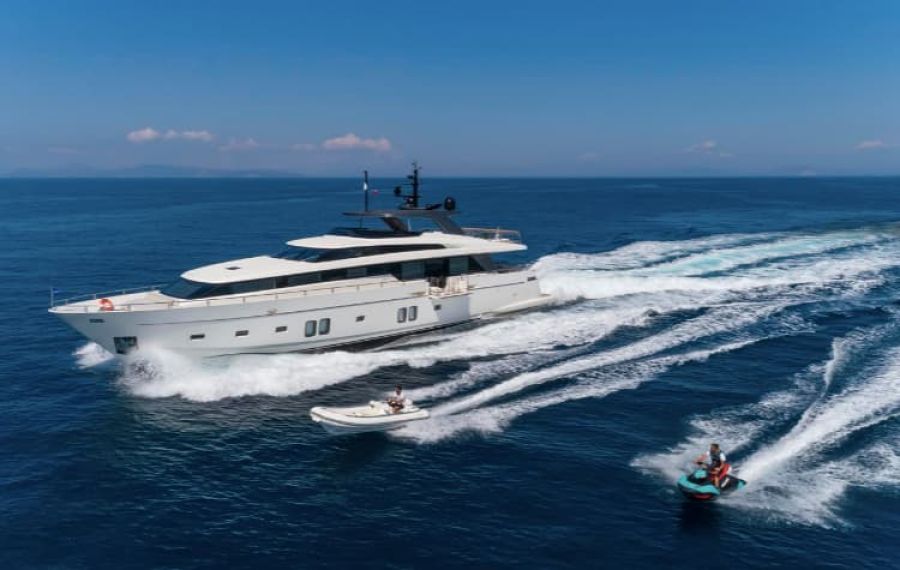 Luxury Yacht Charter Mykonos
Charter a Luxury Yacht in Mykonos and the Greek islands. Mykonos Yacht Charter in partnership with Finest Luxury Yachts specializes in providing the finest luxury yacht charters and yacht services to destinations in Greece and the Mediterranean. Our luxury travel experts and our team of lifestyle managers will suggest a unique itinerary according to your wishes. Enjoy the luxury of a private cruise in the Greek islands.
Charter a Luxury Yacht
Charter a luxury yacht in Mykonos to explore a variety of Greek islands and destinations while offering you all the 6-star hotel comfort and amenities. Whatever your luxury yacht charter requirements, our Special Yacht Advisors will navigate you through the world of choices that suits your needs. Beyond the luxury charter in Mykonos, your Yacht Concierge will facilitate from luxury villas, yacht chauffeur, guide, helicopter rides, restaurant reservations, VIP access to clubs, a luxury event planning to any luxury service you can imagine.
Luxury Services
Our itineraries are not made by the captain. Itineraries are made by our team of Travel Experts and Lifestyle Managers and your Yacht Concierge is 24/7 at your disposal for any last-minute requests. Tailor-made experiences with unique itineraries according to your tastes. That's what makes us different from other luxury yacht charter companies in Greece and the Mediterranean. We are locals and we strive to surpass all our guest's expectations.
Private Yacht Parties
Private parties and luxury yacht events in Mykonos. Just to celebrate in style, host a luxury event onboard your luxury charter yacht. In partnership with Finest Luxury Concierge Mykonos in just a few hours, the deck of a luxury yacht will be transformed into the best cocktail lounge, a VIP nightclub, a stage for live bands, or anything you wish!
Greek Islands and Mykonos
The Mediterranean is the first destination for Superyachts Worldwide. Greece and the Greek islands, ancient history, breathtaking beaches and most of all thousands of islands to explore. Cyclades Islands, Ionian Islands, Dodecanese Islands, Peloponnese, Crete, etc. Athens and the cosmopolitan Mykonos due to its central location is the best starting point for luxury yacht charters in Greece.

"We don't measure success through achievements or awards but through guest satisfaction, creating unique experiences for them. That's what luxury is all about after all."
Private crewed yacht charters are the ultimate vacation experience. Rent your floating villa in Mykonos and enjoy an experience of a lifetime.
Luxury Yacht Services
Luxury Travel Services, Shore Excursions, Yacht Concierge, Yacht VIP Services, Yacht Chauffeur, Yacht Provisioning, Yacht Event/Party Planning, Yacht Chef, Yacht Security, Yacht Charter Ibiza.
Mykonos Yacht Charter
Luxury Yacht Charter Mykonos
Luxury Yacht Charter Athens
Luxury Yacht Charter Santorini
Luxury Yacht Charter Greece
Day Yacht Charter
Weekly Yacht Charter
Island Hopping
Daily Boat Cruise
Speed Boat Transfer
Luxury Yacht Charter, Luxury Yacht Charter Greece, Luxury Yachts Mykonos, Mykonos Yacht Charter, Luxury Yacht Events, Party Yacht Mykonos