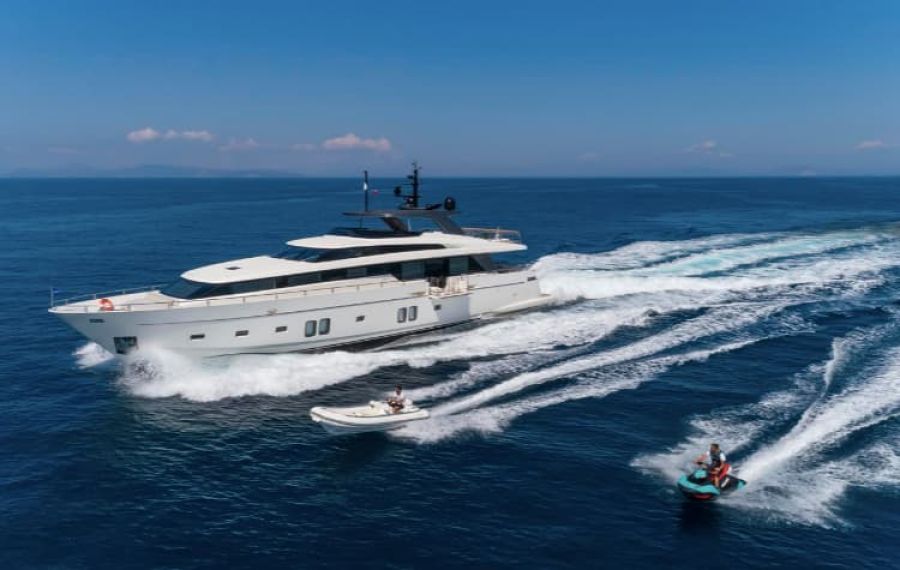 10 Reasons to Book your Yacht Charter Today
There is no better way to experience Greek Islands than on a luxury yacht charter. Soak up the best of Greek culture, sample the traditional Greek cuisine, relax and sunbathe on board, enjoy water activities, VIP nightlife, and table reservations like a celebrity. Spend your summertime with your loved ones and relish an unforgettable holiday. Plan your yacht charter vacation today.
10 REASONS TO BOOK YOUR 2021 YACHT CHARTER TODAY
Plan to travel with family, friends, or for business? There is no better way to experience Mykonos and the Greek Islands than a luxury yacht charter. Dine on the deck of your luxury yacht and gaze at the sunset over Santorini Island. Party in cosmopolitan Mykonos, the destination of celebrities, royal families, and VIP guests and live an unforgettable nightlife. Diving in sublime beaches of Naxos or take a journey in the history of art at Milos. From ancient monuments to magnificent landscapes, there are many reasons why you should visit this country. Still undecided on where to go this summer? Sit back and relax as here are 10 reasons why you should have a yacht charter tour in Greece this year.
#1 More than 6.000 destinations to explore
With more than 6.000 islands and over 13.000 km of coastline, Greece has a huge variety of destinations for your luxury yacht holidays. Beaches stretching over many kilometers, sheltered bays and coves, sandy beaches with sand-dunes, pebble beaches, coastal caves with steep rocks, and dark-colored sand typical of volcanic soil and coastal wetlands. Luxuriate an abundance of idyllic beaches in every destination. Discover them all with your private yacht charter.
#2 Flexibility, privacy, and luxury
If you seek to experience a luxury Aegean summer away from the crowds and immerse yourself in tranquility, then a yacht charter in Greece is the answer. A yacht charter allows scheduling your vacations exactly as you dream. Relax on the deck or explore the hidden side of Greece. Dine gazing at the golden sunset of Santorini or swim in the crystal waters of the Mediterranean Sea. Shop at Boutiques and souvenir shops or snorkel next to starfish, sponges, sea anemones, and sea urchins. Adventure or relaxation? Do whatever you want, any time you want. Chartering a crewed vessel offers you a peaceful trip with endless possibilities, always with the comforts and amenities of a luxury villa.
#3 Celebrity hotspot
There are plenty of actors, athletes, royal families, models, rock stars, and socialites who have chosen Greece as their holiday destination for the warmer months. Celebrities love Greece for the combination of luxury yachting opportunities, privacy, breathtaking landscapes, and crystal-clear waters. If you desire to sit beside a Hollywood star or a Royal Family member, in Mykonos and Santorini there is a high probability.
#4 Greek and Mediterranean Cuisine
Greek cuisine is notorious for its healthy, hearty meals and delicious fresh products. Taste the mouthwatering cuisine of Greece on board. Try dishes based on original recipes that adjust to the Greek philosophy of taste and culture. Indulge your palate with sumptuous island food. Savor traditional and local glasses and plates made of sourced produce and elegantly designed. It will be a tasting experience with superb quality plates you have never tried before.
#5 Yacht Concierge
Your yacht concierge will be 24/7 at your disposal, covering any last-minute request. Luxury accommodation and transportation, the finest restaurants and beach restaurant reservations, private events, or VIP nightlife. We will be able to organize your perfect yachting holiday with the highest level of personal and first-class services in all locations.
#6 Island Hopping
There's nothing quite like spotting the shoreline from a sun-drenched deck or sailing into an enchanting port. In Greece, getting there is an integral part of the adventure, and island hopping is a breeze. Each port it's an eye-popping palette of colors and has its unique style, charm, and history. A yacht charter allows you to blow your mind with lifetime various memories. The distances between Greek Islands are extremely short. With a yacht charter, there is the opportunity to change a destination at any time and explore as many islands as you want.
#7 Explore new destinations like a local
Visit the most popular spots in Greece and the lesser-known locations that perhaps you haven't heard of before. Greece is a country with an abundance of indescribable beauty and priceless treasures. Secret beaches, hidden bays, charming villages awash with light, ancient traditions, and authentic flavors; hidden gems await your discovery on many of the Greek islands. Yacht charter is for those who want to explore a side of the country that most visitors don't get to see and take a trip to the authentic side of Greece.
#8 Water Sports
Greece is also a great destination for active personalities. There are endless watersports opportunities such as kayaking, sailing, windsurfing, and kitesurfing. Mykonos, Naxos, Lefkada, Paros, Crete, Rhodes, Lemnos, and Kos have the perfect seashores for your activities. Luxury yacht toys for your luxury yacht holidays in Greece. With your yacht charter, every island hides a different extreme entertainment just for you.
#9 Remarkable History
In Greece, every step you take is a journey through history. Archaeological sites and iconic monuments dating you back thousands of years. From the Bronze Age, and the ancient classic years, to the Roman and Byzantine Empires. If you're a culture and history lover combine your journey Akrotiri of Santorini and then sided at Delos opposite Mykonos, two of the most notable civilizations of humanity.
#10 Plan your experience easily
Decide where you want to go and get your yacht charter offer. Just let us know how you're daydreaming about a private yacht vacation. Do you plan a honeymooner or celebrating an anniversary? Are you looking for a quality family vacation? Whatever you want, Greek islands will create the perfect background for any occasion. We will organize your ideal trip down to every last detail. If you want to pamper yourself and your company with a well-deserved summer getaway to a lavish yacht, and a luxury lifestyle just book your 2021 yacht charter today!
Greece Yacht Charter Holidays, Fully Bespoke Yacht Charter Experiences.

Yacht Charter Greece, Greece Yacht Charter, Celebrity Hotspot, Mediterranean Cuisine, Yacht Concierge Greece, Island Hopping, Water Sports Greece, Athens Yachts, Santorini Yachts, Mykonos Yachts